Face Your Inhibitions
Struggling to talk as a child gave me the label that I was shy. When you're told you are something it is difficult to shake off the feeling that you are, and to know your own identity. In this project I decided to do the most scary thing possible: put my own inhibitions in the spotlight. By emphasising aspects of myself that made me cringe, in the name of art, I learnt that I had more resilience than I'd anticipated and this in itself was something to be proud of.
Physically this resulted in a collection of work, exploring many forms. Emotionally, it resulted in my ability to say, 'what the hell'.
I created masks of my face that I walked in around the city centre of Leeds. People stared and pointed, talking about me. I had taken my biggest fears and made them a reality. The fact that I went through with this made me feel liberated, both with the mask on, as I couldn't believe I was doing it, and then also once I'd taken it off, the weight lifted, I could breath and I realised just how much that feeling had been in my head.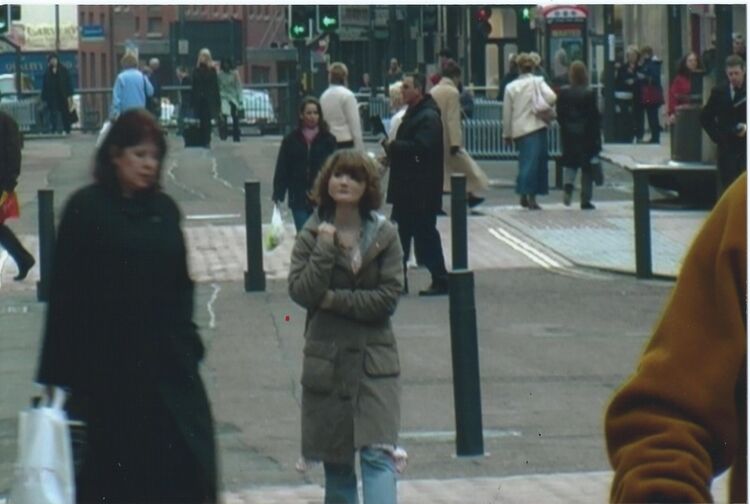 I also created silhouettes of my tensed-up body that I hid around the city for people to find. Making the subconscious, deliberate, I drew around my own frame. This process was rather difficult, resulting in an even more jagged and awkward image. I played with scale, making life-size pieces and tiny pieces. I often want to slip between spaces unnoticed.
The process of placing these sticker silhouettes around the city centre was like at school when you get a sticker for good work, except instead of the sticker being placed on me, I was the sticker and I was stuck out there for all to see. It gave me a sense of achievement, my own form was now a piece of art. I felt proud.