My First Demo - You are not a Fraud !!
2019 has been a year of new experiences, and it's not over yet!
"...The experience taught me to value my own ideas and techniques; be proud of what my work is about; remember to always keep this at the forefront of everything I make and do...."
16/10/2019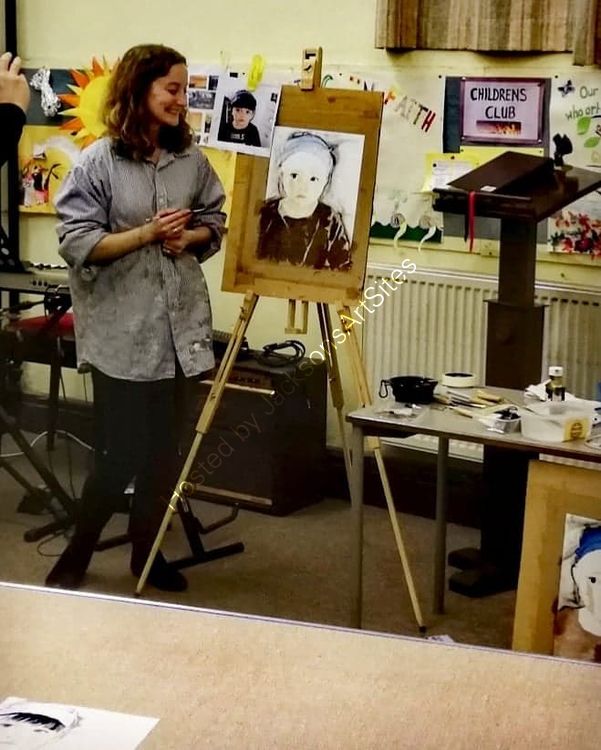 2019 has been a great year so far, and there are still a few months left! It all kick started when I was asked to do a demonstration in January for
Holden Art Club
, in Oakworth. I am someone who, as you might have already read, has had difficulty talking all my life. Subsequently I was labelled 'shy' as a child and still to this day doubt my own abilities. However, this year, with help from my local
NHS Wellbeing College
, I have pushed myself further than I have done before. My immediate reaction might still be "I can't do it." but I am feeling the fear and doing it anyway! I had a great time at Holden Arts Club. As we chatted away I forgot my meticulously planned notes and we talked about how to approach a piece of art. I learnt that by doing a demonstration I had to really get to grips with what my practice was about and what it meant for me. This confidence building set me in good stead for the rest of the year. For me, what the work is trying to express helps me make important decisions on composition; mark making, colours, textures etc. the group were so welcoming and interested in how I worked, that it gave me confidence to be proud of what I was creating and not feel like some kind of fraud. The experience taught me to value my own ideas and techniques; be proud of what my work is about; remember to always keep this at the forefront of everything I make and do.
My journey so far has given me some interesting projects, working for other people, learning about personal and important moments, people, stories and loved ones, which I have had the honour of having as my subject matter. It has given me time to build my confidence back up as an artist. However, what I hadn't realised was that I was subconsciously on a journey of my own. It is just under ten years since I had tuberculosis, and it was also a time in my life that I was dealing with loss, great change and facing up to some hard truths.
Next up was
Horsforth Art Society
, Leeds, in April, where I ran a demonstration all about working with mixed media and animals. I took my own dog Hamish and we talked about the pros and cons of working with real life, as opposed to photographs. It was so good to meet everyone and talk about our different practices.
Then in August I ran my first ever workshop on Drawing in the Landscape. It was held at the beautiful
Hardcastle Crags
, Hebden Bridge, and despite the torrential rain, we had a jolly good time! I could not have done it without the support and encouragement from
Sonya Moorhead
. People's drawing ran off their paper quicker than we could document them, but we all learnt together just how important it is to give yourself that time, to look, observe, experiment with different drawing exercises and then reflect. Life gets busy, and we find so many reasons not to give ourselves that time. But it is so important, both for our own well-being and for our art practice to develop and find its true path.
In September I took part in the amazing
EXPLORE! South Pennines, Walk and Ride Festival, 2019
with my Make a Mark, Landscape Sketchcrawl. What an adventure!
I learnt how to risk assess, budget, be ready for first aid incidents, and met so many inspirational people. If you don't know about it already, check out
Pennine Prospects
, for lots of fun and new ways to explore the stunning South Pennines. I wanted my landscape drawing workshop to be as accessible as possible, and for everyone to feel welcome, whether an avid drawer or a first timer. I devised some fun warm-up drawing exercises on
Penistone Hill Country Park
, Haworth, where people could meet new people, learn a new way to explore and take in their surroundings, and how they don't have to go far to access the beauty of nature. Everyone got on so well, and some of us continued our conversations at Cobble and Clay, cafe.
I have had lots of constructive feedback along the way and now reflecting on my year so far, I feel I have learnt so much. Not just about how to run demonstrations and workshops, but also, what it is that is important to me as an art practitioner. I believe an important part of being an artist is about valuing the importance of playing with materials, techniques. Giving yourself time to experiment, and very importantly, time to reflect and think about how the experimentation you've implemented can affect the way you work and what it means to you. I believe in art being accessible to everyone and that everyone can be an artist despite whatever your teachers at school have said. I believe in the therapeutic properties of exploring art.
Through all this reflection and a few life changes, I have come to realise I have been working through the different stages of grieving. I have been slowly dealing with how TB has changed and affected how I live. Working on commissions for people at home gave me a purpose and something to keep me occupied when I felt physically fatigued and emotionally drained and also gave me a way of connecting with others. However, this year has been a great achievement for me. To push myself to do things I have never done before but to also physically start working outside of my house, with people in the community, I can feel the grief lifting and now feel more confident and excited than ever to follow my creative flow. Consequently, I have decided to take a break from commissions in order to develop my own personal art practice. Who knows what direction it will go in!